New iPhone 6 will be resistant to almost all types of damage, according to YouTube user Marcus Brownlee, put the video test display on your channel.

According to him, he bought one of the screens and exposed him to a number of physical effects including stab and keys.
Artificial sapphire, - the solid, transparent material, which is a product of crystallization of the alumina at high temperatures. While the material is warmed up, it can be sliced ​​into wafers using a diamond-coated saw. The resulting wafer is cut into a desired shape and polish. Due to its scratch-resistant sapphire glass is a traditional material for making watches.
This material is already used in the iPhone 5S, where it protects the camera and Touch ID. In the future, sapphire crystal can be a replacement for the popular Gorilla Glass today
Marcus Brownlee said received screen from Sonny Dickson, specializing in leaks from Apple. He noted that in spite of all attempts to spoil the screen, he did not succeed. Moreover, glass has a high quality and does not permit color distortion.

In its review, Brownlee said that the screen "paper thin."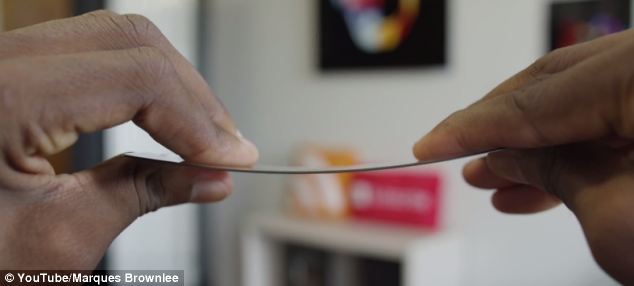 The screen on the video has 4.7 inches diagonally, which heats the rumors about iPhone 6 two versions - with displays of 4.7 and 5.5 inches respectively. Reports that Apple is experimenting with a sapphire crystal appeared in the last year, but it is rumored that the technology has been recognized as "unworkable".
Sapphire glass (Sapphire Crystal) - glass made of synthetic sapphire.Sapphire Crystal - the most expensive, it features a characteristic shine, which lasts for many years and is very resistant to scratches. The hardness of the glass reaches 2200-2300 Vickers - so leave a mark on it is really very difficult, but still possible. Threat to the surface of the sapphire may be diamond, as well as certain synthetic compounds containing silicon carbide and used for furniture and simulating natural stone.
Sapphire crystal is much more expensive than usual, which made refer to assumptions about its use in the new iPhone with great caution. But Apple recently announced the creation of a new plant for the production of mineral glass in Arizona. He will be a joint venture between Apple and the leading manufacturer of sapphire GT Advanced Technologies. It is expected that the new plant will employ about 700 people.
GT Advanced Technologies noted that the agreement does not specify certain production volumes. Press secretary of Apple, however, noted that the total number of new jobs associated with the plant in Arizona will reach 2000.
Earlier this week, the company Foxconn, collecting iPhone, announced that the iPhone 6 will be the first product that will meet his "working robot." According to the plan, by the end of the year in the corporation to appear before millions of robot builders, is currently undergoing final tests. One robot worth 25 thousand dollars can collect up to 30 thousand iPhone a year.
While at Foxconn employs people, not robots, number of employees amounts to 1.2 million people across China.
However, the company Corning - a manufacturer of coating Gorilla Glass for protection from bumps and scratches iPhone, Galaxy S4, HTC One and other gadgets - lashed out at the glass of synthetic sapphire, which may be covered by screens of mobile devices in the near future. According to the senior vice president of Corning Tony Tripeni have sapphire glass more disadvantages than advantages over the "fortified" coated Gorilla Glass.
"[Sapphire] is about 10 times more expensive. It is almost 1.6 times heavier. It is not favorable for the environment. On its manufacture out 100 times more energy than glass. It transmits less light ... that leads either to a darker picture on the screen, or to reduce the 'life' of the battery. It still may crack, despite the resistance to scratching. Our tests indicate that the Gorilla Glass ... able to withstand 2.5 times more pressure than sapphire, "- said Tripeni at a conference organized by the bank Morgan Stanley.
For example, a top manager came to the conclusion that the glass of synthetic sapphire "is not suitable for the application of consumer electronics." In his speech Tripeni mentioned "one of the largest manufacturers of phones and devices", which wants to bring their products to the components of this material. According to the company, he, no doubt, meant Apple. It is expected that soon in Cupertino will make wider use of sapphire crystal - for example, to protect the screen of the next generation iPhone and smart-hours iWatch.
Apple now uses a sapphire crystal to protect the lens of the camera and fingerprint sensor Touch ID in the iPhone 5S, built in the "Home." And in November, a manufacturer of i-gadgets invested in the plant for the production of synthetic sapphire glass more than half a billion dollars.
Experts believe that the benefits of sapphire glass - the hardest natural substance after diamond - on the contrary, outweigh the disadvantages.Firstly, it is 3-4 times stronger than the coating Corning. Secondly, sapphire colorless, resistant to scratching, very hard (melts at 2030 degrees Celsius) and also substantially impervious to corrosive chemicals.On the other hand, sapphire crystal heavier much more expensive to produce and not as transparent as Gorilla Glass.
What is a sapphire?
It superhard form of a transparent crystal that looks and behaves like glass or diamond.
Do not sapphire gem?
Sapphire takes many forms, including can also be a gem. It can be yellow, purple, orange, green or red. By the way, red sapphire, better known as Ruby. The most famous gemstone sapphire blue hue.
Do not turn blue screen smartphone from sapphire?
color gemstones give various impurities. Sapphire is used to produce colorless glass, as it is more pure. As it is significantly less impurities of different metals.
It is extracted from the earth?
Precious sapphires, as well as other gems are mined. Sapphire glass used in jewelry is not, in turn, are made ​​artificially. The first synthetic sapphire was created in 1902 by the French chemist August, will return.Since that time a lot has changed, but in general, all the methods of production of sapphire using heat and pressure to produce a crystal of aluminum oxide.
Where currently used sapphire glass?
Most synthetic sapphires are used in industrial processes, rubies are used to create the red lasers. Sapphires are also used to create resistant glass such as bullet-proof, or glass for scientific equipment. In large glass shopping centers are used for strength sapphires. These glasses are also used in barcode scanners, as they are very hard to scratch. The widespread use of sapphire glass got in a wristwatch. Hardness and scratch resistance features a quality product, and that gives him a sapphire these properties. Home button with Touch ID and glass camera in the iPhone is also made ​​of sapphire glass that makes these elements are resistant to scratches.
Where we will see them in the future?
Of course, we expect that the smartphone will be the sapphire glass. It is very expensive for mass production, but according to rumors, Apple solved this problem. Currently Vertu Ti has a glass covered with crystals.
Why is not enough for us ordinary glass?
Compared with conventional glass sapphire much harder, which makes it resistant to scratches, and is an important factor for the screens, lenses and other transparent surfaces. The hardness of the material is evaluated on the Mohs scale. Ordinary glass by this index reaches between 5.5 and 7 units, whereas the hardness of sapphire is 9 units. It is not much inferior to diamond in hardness. Hardness of steel - 4 units on the Mohs scale, hardened steel - 8 units. More solid object easily scratch less hard, and for a smartphone with a sapphire crystal in your pocket or bag no threat.
How much will this screen?
Pricing Policy Apple's unwavering, and most likely there will make every effort to keep the cost of the smartphone unchanged.
What are the alternatives?
now best known company with its product Corning Gorilla Glass. They argue that the sapphire screens will cost 10 times more expensive than their solution. Gorilla Glass - a chemically tempered glass, its hardness is not exactly made ​​public, but it is approximately 7 units on the Mohs scale.This product is used in a lot of today's smartphones, such as the Nexus 5 and Galaxy S4. There is also a Japanese company Asahi Glass Co, which has its own product Dragontail. Properties similar to the properties of the glass Gorilla Glass. Dragontail can be found in smartphones Sony Xperia Z1 and Samsung Galaxy Nexus.